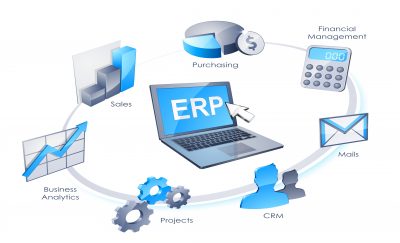 ERP implementation project: Discovery and Planning, Design, Development, Testing, Deployment, and Ongoing Support. Though this is an iterative process, there will be a tendency for phases to overlap, and for movement back and forth between phases.
With our team having over a century of combined experience in financial software and ERP implementations, I have outlined the process that we use with our customers as a series of 6 articles. See the linked steps below for a more in depth look at each phase.
We hope that the articles linked below can serve as a valuable resource to you and your organization when exploring ERP projects as well as other enterprise systems.
ERP Implementation Plan
This first phase begins during the sales process and then continues post-sale. During this period, the project team will be created. There will be initial meetings and documentation developed as the team works to identify current issues and potential solutions. An important part of this phase is constructing the project plan, which will serve as a guide throughout the rest of the project.
We're not talking about painting the office or rearranging furniture. Instead, what will the new enterprise-wide system look like and how will it be used in the organization? In the ERP Design phase, the project team and implementation team will be working out the various configurations for the new system, defining roles, and documenting standard procedures.
The purpose of the development phase is to prepare the entire system for going live. This includes activities such as completing any necessary customizations, developing user trainings, and importing data. With ERP implementations, like any custom software development projects – "First, Solve the problem. Then, write the code."
Is the system's functionality aligning with the set requirements for the project? The Testing and Development phases will often overlap, as the implementation and project teams jump between the two – constantly fine tuning the configuration. By the end of this phase, project team members will be comfortable doing their jobs in the new system. This is the final step before diving into the live system.
The project team and implementation team will assess the situation and make the final go or no-go decision. Prior to going live, the final data will be loaded and validated. The project team will train other employees who will then start working in the new system, and completely stop using the old one.
Once the ERP system has gone live, the purpose of the project team will shift. Over time, as the way the users work within the system evolves, adjustments and changes to the system configuration may be needed.