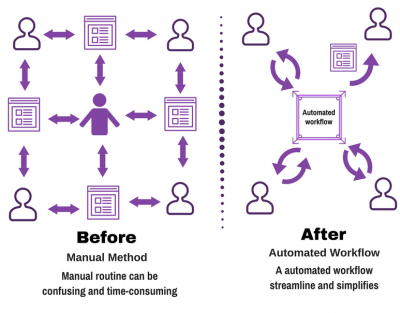 Today B2C or B2B business are in highly competitive and dominating market by large entererprises with hitech automation through Online and the SMEs are feeling challenged to withstand and to be successful.
We Orson help SME to Integrate and automated their resource management like Order Management, Inventory Management, Logistics, Warehouse management, Supply Chain, Ecommerce, Human Resource management, Finance, Customer Relationship Management, Business Intelligence, etc.,
Improve your processes. Improve your business.
Orson enables companies to streamline even the most complex  business processes by applying Integration and automation technologies to capture, prioritize, route, escalate, track, and manage processes through the entire process life-cycle. This approach to process automation offers significant benefits.
Reduce costs, complexity, and human intervention time with simplified process design environment that leverages by customization. We tend to make use of all information from your existing systems, databases, and web sites or if you wish to install additional systems as needed.
Improve operational performance with complete visibility and control for every step of a business process. Real-time monitoring and automated escalations keep processes moving and on schedule at all times.
Increase processing speed and quality by ensuring the appropriate task done by the best qualified available employee with ease. Creating intelligent end user views that will display task-relevant information from multiple process and dynamically guide employees through their next work.
Improve collaboration and enhance the customer experience by seamlessly connecting internal and external employees or the customer. Can integrate Orders, Collections, Schedule follow-ups, interact with the customer through their preferred channel, and track everything since communication events are just another part of the process.
Intuitive, graphical design environment – Speed process flow and user interface design with new front end applications integration with your existing applications.
Mobility – Enhance the customer experience by extending key business processes to mobile users.
Real‐time monitoring – Get real-time visibility into every step of a work process including statistics, alerts for errors, delays, and approaching due dates and the ability to automatically re-assign work based on business rules.
Detailed reporting – Gain powerful insight into process metrics, down to the individual and work item.